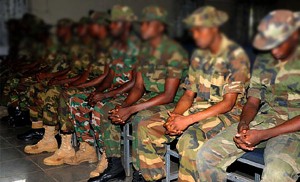 The court martial sitting in Abuja, on Wednesday night, delivered its verdict in the case of conspiracy to commit mutiny and incitement of mutiny involving 5 soldiers.
LCPL Sule Ochehepo was discharged and acquitted, while LCPL Bankole Taiwo, LCPL Bankole Olawale, LCPL Isaiah Olofu and PTE Adebayo Gbenga were convicted and sentenced to death.
The allegation against the soldiers was that they asked "inciting questions" from their Commanding Officer of 81 Battalion when he addressed them on September 14, 2013.
The questions pertained to the corpses of some of their colleagues brought to the camp after they were killed by the Boko Haram terrorists due to lack of weapons.
The charge of mutiny was that the 5 soldiers "incited soldiers of 81 Bn to mutiny against the authority of 7 Division of Nigerian Army".
They pleaded double jeopardy that they had been tried summarily by their Commanding Officer, convicted and sentenced and that they had served the punishment.
The record of proceedings of the earlier trial was tendered and admitted in evidence by the court martial but the court martial headed by Brig-General M.S Yusuf did not consider the defence of the soldiers.
Altogether, 71 soldiers have been sentenced to death for protesting against the non-payment of salaries and allowances and failure of the authorities to provide equipment to confront the well-equipped Boko Haram troops.
Hundreds of other soldiers are currently awaiting trial in Abuja, Jos and Lagos for mutiny, negligence and cowardice and allied offences.
They are due to be arraigned after the Christmas vacation.