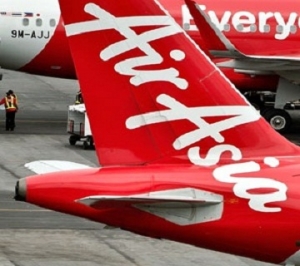 The tail of AirAsia flight QZ8501 has been found, potentially making it a major step towards locating the plane's black boxes and helping shed light on what caused it to crash into the sea 11 days ago.
It was found in a secondary search area, lending weight to theories that strong currents have moved the debris.
Flight QZ8501 vanished from radar screens over the northern Java Sea on Dec. 28, less than half-way into a two-hour flight from Indonesia's second-biggest city of Surabaya to Singapore. There were no survivors among the 162 people on board.
"We've found the tail that has been our main target," Fransiskus Bambang Soelistyo, head of the search and rescue agency, told a news conference in Jakarta.
The tail was identified by divers after it was spotted by an underwater machine using a sonar scan, Soelistyo said.
He displayed underwater photographs showing partial lettering on the sunken object compared with a picture of an intact Airbus A320-200 in AirAsia livery.
"I can confirm that what we found was the tail part from the pictures," he said, adding that the team "now is still desperately trying to locate the black box".
Dark and shallow waters at the site have made it difficult for divers to retrieve the wreckage age,Erik van Sebille, an oceanographer at the University of New South Wales in Sydney, Australia, told the Associated Press news agency.
Despite a huge recovery operation assisted by several countries, progress has been hampered by strong winds and high waves.
So far only 40 bodies have been found, all of them floating on the sea.
It is not clear what caused the crash, but bad weather is believed to be a contributing factor.