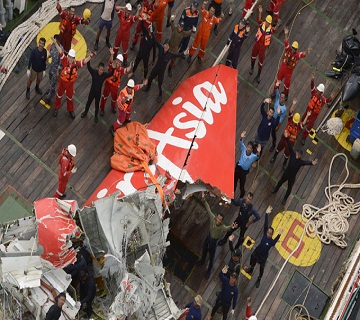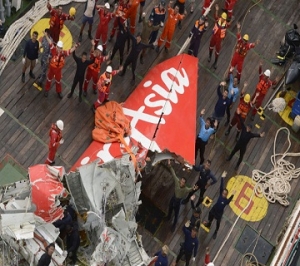 Indonesian navy divers on Monday retrieved the black box flight data recorder from an AirAsia airliner that crashed two weeks ago, killing all 162 people on board, a government official said.
Divers found the flight data recorder under the wreckage of one of the plane's wings, said Bambang Soelistyo, the head of Indonesia's search and rescue agency.
"We succeeded in lifting the part of the black box known as the flight data recorder," Soelistyo, told reporters at a news conference on Monday.
The second black box with the cockpit voice recorder has been located, based on pings from its emergency transmitter, but not yet retrieved, Madjono Siswosuwarno, the main investigator at the National Transportation Safety Committee, told Reuters.
Officials hope the black boxes, found near the wrecked wing of the plane, will reveal the cause of the crash. The national weather bureau has said seasonal storms were likely a factor.
The two devices, known popularly as black boxes, are seen as crucial to unraveling the mystery of what brought down Flight QZ8501 as it flew toward Singapore from the Indonesian city of Surabaya with 162 people on board.
The recorders are expected to be taken to the capital, Jakarta, for analysis and it could take up to a month to get a complete reading of the data. Officials did not provide details of the condition of the black boxes.
"The download is easy, probably one day. But the reading is more difficult … could take two weeks to one month," Siswosuwarno said.
While the cause of the crash is unknown, the disaster has once again placed Indonesia's chaotic aviation industry under scrutiny.
Indonesian officials have alleged Indonesia AirAsia did not have a licence to fly the route on the day of the crash, although the airline rejects the claim.
Indonesia's Transport Ministry quickly banned AirAsia from flying the Surabaya-Singapore route. On Friday it suspended dozens more routes operated by five other domestic airlines for similar licence violations.