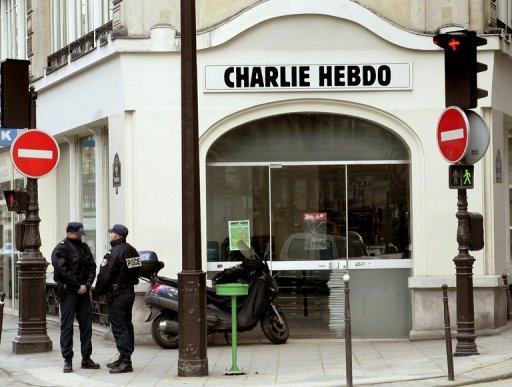 The front cover of Wednesday's edition of the French satirical magazine Charlie Hebdo, the first since last week's attack on its Paris offices that left 12 people dead, is a cartoon of the prophet Muhammad.
The cover shows the prophet shedding a tear and holding up a sign reading "Je suis Charlie" in sympathy with the dead journalists. The headline says "All is forgiven".
Richard Malka was among the first to call for the magazine to continue functioning after nine of its contributors, including famed cartoonists Cabu and Wolinski and its publishing director, Charb, were gunned down last Wednesday by Chérif and Saïd Kouachi
When asked whether that meant more cartoons of Mohammed, which have been a regular feature in the magazine until last Wednesday's attack, he replied: "Naturally."
"We will not give in otherwise all this won't have meant anything," he told France Info radio on Monday, which broadcast from the magazine's heavily guarded temporary offices at Libération newspaper.
"Humour without self-deprecation isn't humour. We mock ourselves, politicians, religions, it's a state of mind you need to have."
"The Charlie state of mind is the right to blaspheme," he went on.
The edition will appear on Wednesday in 16 languages, including Arabic, and will be sold in 25 countries.
Liberation published the Charlie Hebdo cover online late on Monday night, showing a man in a white turban holding a sign reading "Je suis Charlie."
Charlie Hebdo's past caricatures of the prophet appear to have prompted last week's attacks, which left a total of 17 people dead.
Boris Johnson, the mayor of London, told the Today programme that Charlie Hebdo had no choice but to print the cover it had.
"You cannot have a march through the streets of Paris attended by 46 world leaders, 4 million people, climaxing with a shout of 'We are not afraid' and then not print the central object of contention," he said. "Of course they are right to do that and I am afraid it is absolutely vital now that everybody stands up and defends their right to publish. You may not agree with what they have done, you may be offended by what they have done, but you should defend their right to publish it."
Thousands of people showed their solidarity waving flags of France as well as several other countries, throughout the march which kicked off at central Place de la Republique.
Meanwhile, the partner of one of the slain attackers behind the three-day killing spree in Paris crossed into Syria last week, according to the Turkish foreign minister.
Mevlut Cavusoglu said on Monday that Hayat Boumeddiene, 26, had crossed into Syria on January 8, the same day that her partner Coulibaly is suspected of killing a policewoman outside Paris on the second day of the attacks.