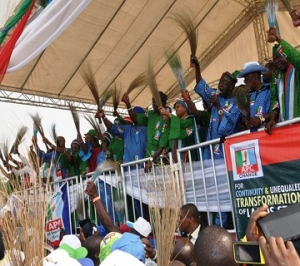 The All Progressives Congress (APC) in Lagos State has begun its state-wide campaign, urging all registered voters to vote for the party.
Party leaders including the APC Lagos State governorship candidate, Mr Akinwunmi Ambode, will be going round the various local government areas in the state to woo voters.
Mr Ambode had promised to build on the achievements of his predecessors by running a transparent government.
At a really held in Ikorodu area of the State on Saturday, he told supporters that the party would make life more comfortable for the residents of Lagos State.
"We are going to improve on the roads in Ikorodu and other communities. we will take care of all our women and youths. We will create more jobs," he said.
The incumbent governor, Mr Babatunde Fashola, assured the supporters that Mr Ambode would show the same commitment to service as shown by his administration.
He said that Mr Ambode had managed the state's finance efficiently when the state was not receiving its allocations from the Federal Government.
The campaign is the build up to the governorship election in the state that has APC'S Ambode and Mr Jimi Agbaje of the Peoples Democratic Party as the major contenders.