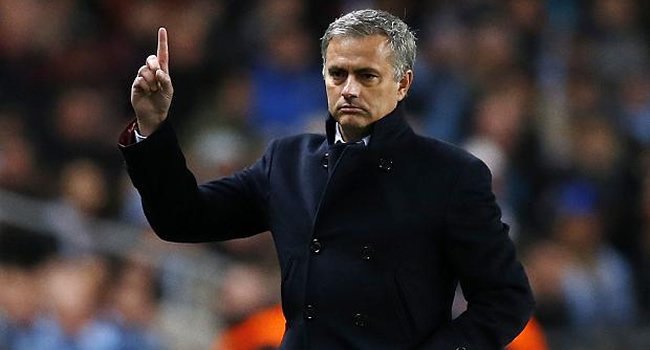 After being left "embarrassed" by Bradford City, Jose Mourinho has demanded a response as his Chelsea side seek to reach the League Cup final against Liverpool on Tuesday.
"We go into the game against the Merseyside outfit with the scores level at 1-1 following last week's first leg at Anfield, meaning any type of victory would see us progress," he said.
With their involvement in the FA Cup coming to an end over the weekend, the Blues boss wants his side to take the opportunity to secure a place in next month's Wembley final.
"The next game is the most important one," said Mourinho. 'At the end of May, beginning of June, we don't go to Wembley to play the FA Cup final, that's for sure. The FA Cup is finished for us. We don't go there even to play the FA Cup semi-final. It's over for us. To go there – and I think that should mean a lot to everyone – the last chance we have is this one, to play there in the Capital One Cup final.
"We need to forget this one [Bradford] and start the next game in a different competition, and I know we are one victory away from playing a final.
"It's the good thing about playing consecutive matches without many days in between. It's the good thing that, when you lose, you have to focus immediately on the next game. You don't have a lot of time to be moaning or analysing what happened in the bad one. Let's move and let's think about the next one."
With the January transfer window only open for another week, Mourinho manager once again explained why he is not looking to conduct any business.
"I'm happy to go (until the end of the season with the same squad)," he said. "This is Chelsea, always thinking and being proud of thinking about numbers and Financial Fair Play.
"We cannot now go to the market and spend money. So I'm completely with the club. I share this idea, I share this profile. I don't think we are going to the market, unless somebody comes and makes a market which meets with us."
Speaking in the aftermath of the shocking defeat, manager Mourinho stated that his players should feel "ashamed" of themselves.
Premier League leaders Chelsea were dumped out of the FA Cup by their League One opponents at Stamford Bridge on Saturday after throwing away a two-goal lead to lose 4-2 in one of the biggest upsets in the competition's prestigious history.