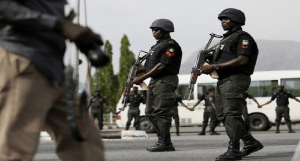 As political activities gather momentum,the Ogun State Police command  has read the riot act to politicians against violence during their campaigns, saying the command would not hesitate to arrest and prosecute any politician and  political party found culpable.
The Deputy Commissioner of Police, Ogun state police command, Mr Sina Olukolu, who represented the commissioner of police gave the warning during a sensitisation meeting with members of political parties held at the police officers mess in Abeokuta, the state capital.
The command also  warned against religious, ethnic sentiments and use of inciting statements during campaigns.
Although, some members of the political parties were not present at the sensitisation meeting, this did not stop the meeting from holding.
Members of the Social Democratic Party, Labour Party, Alliance For Democracy, All Progressives Grand Alliance were at hand to listen to what the command had to say.
Inciting statements, unlawful gatherings, religious and ethnic sentiments are now prohibited by the command, the police  said, noting that they were working towards recording peace before, during and after the elections in the state.
Some of members of political parties who attended the meeting  commended the command, expressing their commitment to abide by all laid down guidelines.
Beyond these pledges and promises, parties in the state  must be seen  to be doing those things that would encourage discipline among members while security operative discharge their duties without fear of favour.