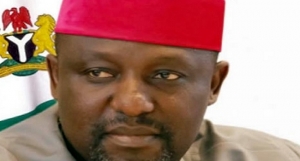 The Imo State Governor, Rochas Okorocha and the APC governorship candidate on Wednesday received endorsement and support from students under the aegis of the National Union of Imo State Students, comprising of all the seven higher institutions in the state.
The students in their thousands gathered at the freedom square in Owerri, the Imo state capital, to show solidarity to the incumbent Governor.
They maintained that the Governor had done a lot for the students in the area of education especially the free education programme presently enjoyed by students in all the state owned tertiary institutions in the state, urging him to continue with his developmental strides in the state.
Governor Okorocha promised the students that if elected into office, he would consolidate on the existing programmes initiated by his administration.