Obiano Reiterates Commitment To Infrastructural Development In Anambra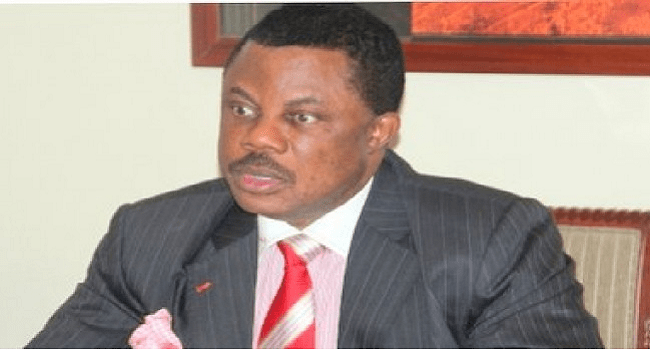 The Anambra State Governor, Willie Obiano, has reiterated his commitment to infrastructural development in the state, assuring the resident of Orumba North and South Local Government Areas that his administration will continue with road projects in the area.
During a tour of the communities in the Local Government Area, Governor Obiano said the Anambra State government had spent over 47 billion Naira on road construction in the area within the past eight and half years.
Communities in Orumba North and South Local Government Areas are seen as the food baskets of the state, but the needed good roads to move their produce from their farms to the markets in the cities are lacking. The government is looking to provide good roads in the area to aid transportation of goods.
The Governor made a stop over at Mbaukwu in Awka South Local Government Area to sympathise with a domestic fire accident victim, Mr Friday Alagbo.
He said the state government would offset the hospital bills, but warned citizens to be careful in handling flammable materials, even as the state government had commenced with revamping the state's fire fighting system.
At Ezira, in Orumba North Local Government Area, the reception was heartwarming, giving way for the people to solicit state government assistance to tackle poor road in their local government.
A Local Government Chairman highlighted some of their achievements in line with the vision of the state government as contained it its economic blueprint.
Governor Obiano, addressing the people, assured them that the construction of the 11.3 kilometer Ezira-Umuonyia-Achina road, which connects Orumba South to Aguata, would soon begin.
Obiano urged the people to continue supporting his political party, the All Progressive Grand Alliance (APGA), as the 22 billion Naira already spent on road infrastructure in the local government would only be a tip of an iceberg.
The Governor also visited Ajalli, in Orumba South. Addressing a gathering of residents, Governor Obiano said that over 25 billion Naira had been spent on road construction in addition to interventions in schools, hospitals and other key sectors.
He also urged the people to give APGA candidates total support in the forthcoming elections, to maintain the tempo of good governance in the Local Government Areas.