Ukraine Crisis: Fierce Fighting Despite Minsk Peace Deal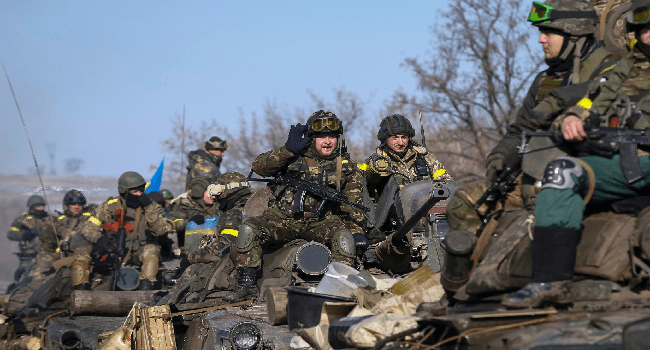 Ukraine and Russian-backed rebels fought fiercely across the east of the country on Friday despite a new peace deal brokered by Germany and France.
The deal, sealed by the leaders of Germany and France on Friday after 16 hours of all-night talks in Minsk, capital of Belarus, with the Russian and Ukrainian presidents, was soon overshadowed by the clashes.
The fiercest battles were over control of the town of Debaltseve, a strategic town in between rebel-held areas where separatists used rockets and artillery to attack government forces holding the town.
A ceasefire is due to come into effect from Sunday under the agreement, which also envisages a withdrawal of the heavy weapons responsible for many of the 5,000 casualties in the conflict that broke out almost a year ago.
Shelling was reported in Donetsk and Luhansk – rebel bastions near the front line where the pro-Russian rebels face government forces.
Two people were killed and six wounded when a shell hit a cafe in the Kiev-controlled town of Shchastya near rebel-held Luhansk in eastern Ukraine.
"The town's heating system is broken, power lines are damaged as well as the water supply … So this is how a comprehensive ceasefire is prepared for," the head of the Kiev-controlled administration, Hennadiy Moskal, said online.
The rebels accused Ukrainian forces of shelling the separatist stronghold of Donetsk and the town of Horlivka, where they said on their website that three children had been killed.
A Ukrainian military spokesman said 11 soldiers had been killed and 40 wounded in the past 24 hours. "The enemy continues to build up forces in the main areas of the armed conflict."
"Rebels are repeatedly storming the strongholds and base camp of Ukrainian forces," in and around Debaltseve as well as firing artillery, mortars and rockets, Lysenko said, stressing that government troops had held their positions.
The United States and Europe have threatened further sanctions against Moscow if the rebels seize more territory.