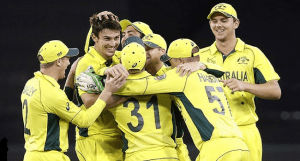 Aaron Finch smashed a sparkling century as Australia gave England a 111-run humiliation in their opener at the Melbourne Cricket Ground at the ongoing Cricket World Cup.
The batsman blasted 135 at his home ground to lay the platform for victory as the co-hosts piled on 342 to two runs shy of the venue's one-day international record.
For Australia, the only blot in a dominant display was Watson's failure to score or take a wicket and a dropped catch by Finch when Taylor was on 20.
Captain Michael Clarke is expected to return for the second match against Bangladesh after undergoing a hamstring surgery.
When Finch and Bailey fell, England looked like they might check Australia's progress, but Maxwell provided the late carnage. The final 10 overs yielded 105 runs, including 76 off the last six.
An expected defeat by the tournament favourites, however, does little damage to England's hopes of reaching the quarter-finals.
What should provide cause for concern is the manner of the defeat. They were adjudged to be substandard in the field, lacked control at the end of the Australia innings and were only saved from their heaviest World Cup defeat by Taylor.
The most costly mistake was made by Woakes, dropping a simple chance above his head at square leg off James Anderson to reprieve Finch from only the fifth delivery.
Steven Finn claimed the first World Cup hat-trick by an England bowler from the final three balls of the innings, all skied catches.