Nigerian Military Clears Boko Haram Terrorists From Monguno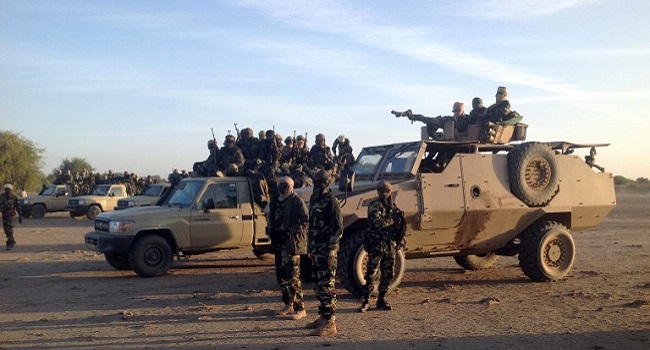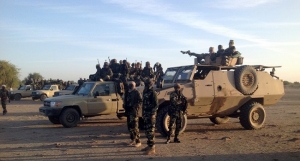 Troops in a military operation spearheaded by highly coordinated air assaults have completed the mission of clearing terrorists from Monguno in Borno State and environs, a military official has said. 
The spokesman for the military, Major General Chris Olukolade, in a statement on Monday said that a number of the Boko Haram terrorists were captured in the course of the operation on Monday morning.
Major General Olukolade further said that truck loads of rice, beans and other logistics meant for resupply to the terrorists operating around Baga were also captured.
"Casualty inflicted and arms recovered as well as other outcome of the operation in Munguno, Marte and other communities already secured, will be determined after the ongoing cordon and search in the environs," the statement read.
He said that the air and land operations had continued, with aggressive advance towards other designated communities and locations meant to be cleared in the ongoing offensive against the Boko Haram members.
Recover All Territories before Elections
Counter-terrorism operations have heightened, with collaborated efforts from forces of countries bordering Nigeria in the north-east, the stronghold of the Boko Haram terrorist group.
Nigeria's election was postponed on February 7 by six weeks by the electoral commission to enable the military re-capture areas under the control of the terrorist.
The Independent National Electoral Commission (INEC) had said the decision to postpone the elections was reached after wife-reaching consultations and the advice of the security chiefs to postpone the elections.
On February 13,  President Goodluck Jonathan reassured the international community of his determination to recover all the territories in the hand of the Boko Haram.
He said that this was important so that the presidential elections could be conducted peacefully in those areas.
The President, spoke at a cocktail in honour of diplomats and high commissioners in Nigeria, commended the collaboration with other countries in the fight against terror, promising to win the war decisively.
He said that the decision of the INEC to postpone the general elections by six weeks was an adjustment in dates within the constitution which would not in any way affect the inauguration of a new government.