Shekau Threatens Mayhem During General Elections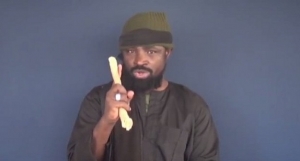 Reports from foreign media, Al Jazeera and the British Broadcasting Corporation (BBC) says the leader of the Islamist group, Boko Haram, Abubakar Shekau, has threatened mayhem during Nigeria's presidential election scheduled to hold on March 28.
Shekau, in a new video purportedly released by the group on Tuesday, that was obtained by US based SITE Intelligence Group, issued a warning to the Goodluck Jonathan's government that next month's elections would be disrupted with violence.
"Allah will not leave you to proceed with these elections even after us, because you are saying that authority is from people to people, which means that people should rule each other, but Allah says that the authority is only to him, only his rule is the one which applies on this land," he said.
"And finally we say that these elections that you are planning to do, will not happen in peace, even if that costs us our lives," Shekau added.
In the video message, titled "A message to the leaders of the disbelievers", the contents of which Al Jazeera has not been able to independently verify, Shekau took aim at the leadership of regional countries who are co-ordinating efforts against the group.
"You are claiming that we don't know how to fight, but we forced your forces to flee from their bases and we freed our imprisoned brothers from the prisons that you oppressed them in, only praise be to Allah."
The Independent National Electoral Commission (INEC) had postponed the February 14 election by six weeks after consultations with security chiefs and political stakeholders.
The BBC reports that the 15-minute film was released via the group's newly created Twitter account, prompting some analysts to question whether they had been influenced by Islamic State.