Yobe APC Alleges PDP Planning Election Shift In North-East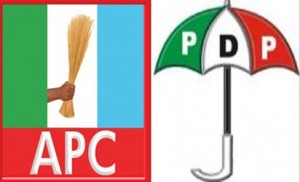 The Yobe State chapter of the All Progressive Congress (APC) has alleged that the People's Democratic Party (PDP) is planning for a shift in the conduct of the general election in four north-east states of the country.
A statement issued by secretary of the chapter, Mr Abubakar Bakabe, states that "we are concerned with the phony plan by the PDP for a shift in the conduct of the general elections in Adamawa, Borno, Yobe and Gombe States from the rescheduled March 28th and 11th April, 2015.
According to Bakabe, the plot "is to pave way for the PDP to rig the election and augment their poor performances in other states, through the use of security forces to be massively deployed to the states".
The statement also condemned the "ill-conceived plan for a serial rape of democracy in Nigeria, by sinking party that foresees ultimate failure in the forthcoming election and is therefore, afraid of facing Nigerians at the polls due to its failure in the last 15 years of leadership".
It stated further that "We are also concerned with the hidden agenda contained in the heinous plan to intimidate, disenfranchise, and rig the election, reminiscent of what happened in the Ekiti States governorship election last year, through massive deployment of security forces to create an environment for rigging"
The party according to the statement, advises the PDP to refrain from this obnoxious, dangerous and undemocratic stand posing great threat to the democracy in Nigeria.
It reminded security agencies on the need to be highly professional, patriotic and to abide by the international best practices.
It also enjoined the Independent National Electoral Commission (INEC) and other stakeholders not to be distracted by such "devilish, unpatriotic and undemocratic plans aimed at thwarting the smooth transition and successful conduct of the general election in Nigeria come 28th March and 11th April 2015".