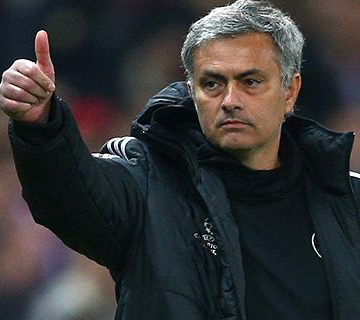 Chelsea Manager, Jose Mourinho, has spoken about the incident on the Paris Metro earlier in the week.
At Friday's pre-match media conference at Cobham, Mourinho was asked for his thoughts on what happened in the French capital after a new club statement had been read.
A man was stopped from boarding a Paris train by what appeared to be Chelsea football fans chanting racist slogans.
He condemned the act and dissociated the club from the perpetrators.
"This is not Chelsea,' the manager said. "They are not Chelsea.
"Chelsea is the owner, the manager, the players, the people that work here and the true Chelsea supporters.
"We feel ashamed but maybe we shouldn't because I refuse to be connected with these people. I am connected with Chelsea and the many good things Chelsea defend and represent.
"I left Chelsea in 2007 and I couldn't wait for the moment to be back, and it's not because of people like this that I wanted to be back.
"I felt ashamed when I knew what happened but I repeat: I am a proud Chelsea Football Club manager because I know what the club is and these people don't represent it.
"The dressing room reacted the same way I reacted: with disappointment, condemning the situation and supporting the gentleman involved, but always with the feeling that we feel ashamed but maybe we shouldn't because we don't belong to these people, and these people don't belong to us.
"All these years, even without me, I am sure this dressing room was always a dressing room with big principles of equality. We had everything, absolutely everything – not just [different] races but also [different] religions.
"Chelsea since minute one after the incident are doing absolutely everything because [we have] zero tolerance. Apart from that we have to keep feeling that our club is a great club and our club has no space for these kinds of people.
"We feel very sorry about it, we want to fight it and we apologise to the gentleman."
The club confirmed Souleymane, the gentleman involved in the incident in the Paris Metro, will, along with his family, be invited to the return leg against PSG at Stamford Bridge next month.
"I would support the idea even not knowing that the gentleman likes football," Mourinho said.
"He would feel what Chelsea is. At this moment maybe he has the wrong idea of what Chelsea Football Club is.
"I don't know if the gentleman loves football but for sure he would love to feel that the people [that were involved] in the incident are not Chelsea Football Club."