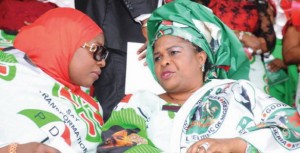 In continuation of the nationwide campaign by the People's Democratic Party, Nigeria's First Lady, Dame Patience Jonathan has said that the candidature of President Goodluck Jonathan remains the only genuine one that can foster the speedy development of the country judging by his track records even in the midst of challenges.
According to her, no administration in the history of the country has also impacted on the lives of women both nationally and internationally.
A gesture which according to her deserves accolade.
The President's wife was speaking at the 6,000 seating capacity ultra-modern Township Stadium at Ikom Local Government Area of Cross River State in a nationwide women rally to solicit votes for her husband ahead of next month's election.
Party supporters from across the 18 local government of Cross River State, wives of Cross River and Akwa Ibom State governors, Obioma Liyel-Imoke, Ekaette Godswill Akpabio, political appointees, aspirants, as well as the host governor Liyel Imoke gathered at the venue to welcome the First Lady.
Following the commissioning, PDP Party stalwarts took turns to highlight President Jonathan's achievement during his first tenure in office which sprang through all facet of the economy
Addressing the gathering, the President's wife enjoined all Nigerian women and eligible voters not to be cajoled by those who claim to be agents of change because when they were in office, they did not implement the change they are now canvassing for.