Group Hopeful Of Chibok Girls' Rescue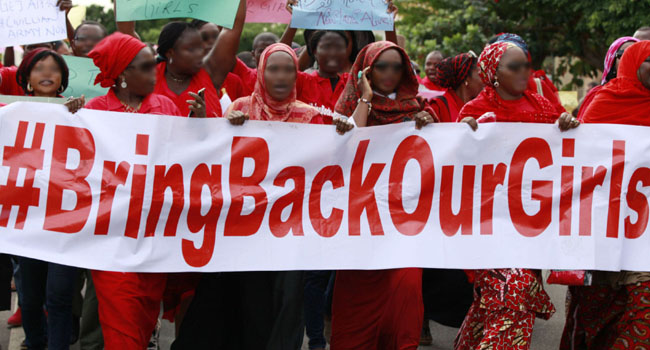 The Bring Back Our Girls Campaigners have expressed hope that the heightened counter-terrorism offensive by the military against the Boko Haram terrorist group in Nigeria's north-east will lead to the rescue of the over 200 schoolgirls kidnapped last year in Chibok in Borno State.
Speaking to Channels Television in Abuja on Saturday, the campaigners were however, concerned that "the military seemed not to have enough intelligence about where the girls are".
They observed that the Chief of Defence Staff, Air Marshall Alex Badeh had, not long after the girls were kidnapped, said that the military knew where the girls were.
The nation has witnessed several bombings and attacks from members of the Islamist sect, Boko Haram, especially in the north-east.
However, the tide of the attacks appears to be abating, with the increased offensive of the Multi National Task Force.
Several towns and communities have been reclaimed by the military and recently, a group of people kidnapped by the sect, regained their freedom.
The members of the Bring Back Our Girls group have been holding the sit-out session for several months, demanding action for the release of the schoolgirls abducted on April 14 from their school dormitory in the Government Secondary School in Chibok.
A member of the group, Ibrahim Wala is hoping that the renewed military efforts would ensure the safe recovery of the schoolgirls.
They have insisted that the sit-out sessions would end when the the Chibok schoolgirls have been rescued.
The leader of the Boko Haram sect, Abubakar Shekau, in a video last year, said  the girls had been 'married off', but President Goodluck Jonathan had, during a Presidential media Chat on February 11, expressed hopes that with the heightened counter-terrorism war, 'there are chances that the girls would be rescued'.