Man Hours Lost As Fuel Scarcity Hits Nigeria's Capital City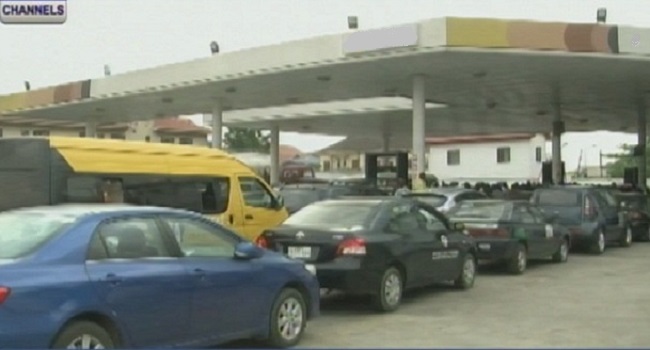 It is no longer business as usual at petrol stations in the Federal Capital Territory, as residents queue for as long as five hours to buy petrol.
When Channels Television's crew visited some of the fuel stations in Abuja on Saturday, long stretch of queues were seen and many residents complain bitterly about the situation.
The commuters are asking the government to wade into the matter to ease their hardship.
It has been like that in the past few days, some of them said, lamenting that the time wasting at the petrol stations have become the order of the day for most residents.
At the Oando filling station, Herbert Macaulay Way, commuters had a long wait with no availability of the product.
The supervisor at the station, Al-hassan Abubakar, explained that there had been shortage in the supply of petrol.
At the Nigerian National Petroleum Corporation (NNPC) mega station, it was a quite different scenario, as all the pumps are dispensing product, only that commuters have to deal with the long queue.
Although, it is not yet clear when this whole hardship currently experienced by residents of the Federal Capital Territory and other parts of the country will end, the NNPC said on Friday it added 688 million litres of petrol in the market, dousing fears raised by scarcity witnessed in some states.
The corporation's spokesman, Mr Ohi Alegbe, in a statement, said there was no need for panic buying which he said might be the reason for the recent artificial fuel scarcity.
"The Corporation is working with all downstream industry stakeholders to eliminate the noticeable artificially induced fuel queues in some fuel stations," the statement read.
He assured Nigerians that the NNPC had enough products to go round for use across the country and advised against panic buying and hoarding of petroleum products.