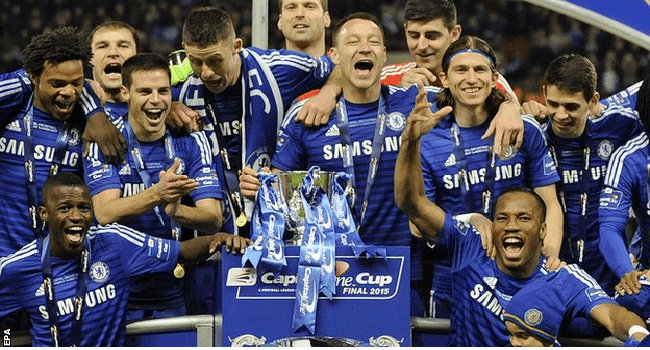 Jose Mourinho has claimed his first trophy since returning for his second spell as Chelsea manager, as Chelsea emerged winner of the Capital One Cup over Tottenham at Wembley.
Jose Mourinho was delighted after seeing his side crowned Capital One Cup kings, the club's fifth success in the competition's history.
Mourinho's mastery of the big selection decision was also demonstrated again by his deployment of Kurt Zouma, a central defender by trade, in midfield to fulfill the role left behind by the suspended Nemanja Matic to outstanding effect.
John Terry, Man of the Match striked with a goal on the stroke of half-time.
Eleven minutes into the second half, Diego Costa, scored with an assist pass from Cesc Fabregas which deflected off the leg of Kyle Walker.
Speaking to the media after the game, Mourinho started by praising the opposition saying, "First of all I want to say that in the middle of my happiness is space to think about Mauricio Pochettino, his staff and Tottenham as a team and a club, I met him in Spain many years ago as a player and then when he was a young manager when I was at Real Madrid. He came to England, proved himself, nobody gave him anything for free."
The Chelsea's boss added:  "The second thing I want to say is that now I don't think about John Terry, Azpilicueta or Diego Costa; I think about Courtois, because without him there would have been no final, we would have lost against Liverpool. I think about Matic, Filipe Luis and Oscar, the guys who didn't have a chance to play. I think about Schwarzer, Salah, Schurrle, all the guys that started the season with us, they are all winners."
Despite a career laden with trophies, Mourinho claimed this was the most important final of his time in the game and Chelsea were never seriously troubled once Christian Eriksen's early free-kick rebounded to safety off the woodwork.
Mourinho also spoke about Diego Costa saying "He needs the team, without them it's difficult to do anything. He needs to keep his nature as a person and a player. He played a final at the top of his motivation, there was no yellow card because he did nothing to deserve a yellow card.