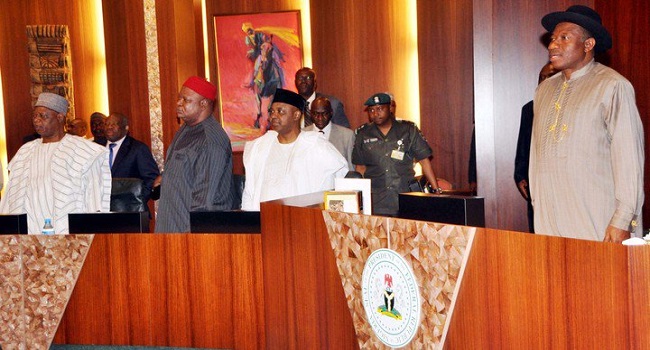 The Federal Executive Council in Nigeria on Wednesday approved a national policy framework on 'Nigeria Polychlorinated Biphenyls (PCBs) Management Project' to monitor, manage and control the persistent organic pollutants and protect human health and the environment.  
The approval was given during a meeting of the council in Abuja and presided over by the President, Dr. Goodluck Jonathan.
It is in line with efforts to reduce and eventually eliminate the use and sources of PCBs contamination from the environment, which the World Bank had set aside $6.3 million (about 1.2 billion Naira) for in December last year.
PCBs are man-made organic chemicals known as chlorinated hydrocarbons.
They were domestically manufactured from 1929 until their manufacture was banned in 1979 in the United States. They can be found in transformers and capacitors, other electrical equipment including voltage regulators, switches, bushings, and electromagnets, oil used in motors and hydraulic systems among others.
At an awareness campaign in December 2014, Nigeria's Minister of Environment Mrs Laurentia Mallam, said PCBs had been identified by United Nations Environment Programme as highly toxic.
She noted that Nigeria was never known to produce PCBs but imported a good deal of it through shipment of transformers, capacitors, ballasts, paint and hydraulic fluid additives in the late 1940s and early 1980s.
"The consequence of this action has left our country with a considerable quantity of PCBs that must be managed," she said.
The minister said Nigeria was part of the Stockholm Convention which requires all parties to eliminate the use of PCB containing equipment by 2025 and to make liquid PCBs and equipment contaminated with PCBs subject to environmentally sound waste management not later than 2028.
The 'Nigeria PCBs Management Project' is being implemented by the Federal Ministry of Environment in collaboration with Global Environment Facility (GEF) and World Bank to comply with national obligations and protect Nigerians from adverse effects of PCBs.
Auto-testing Laboratories
Also approved at the meeting was the contract for the procurement of auto testing laboratories equipment and tools to be installed in designated auto-testing laboratories in Lagos, Enugu and Zaria.
The National Automotive Council (NAC) is to handle the procurement.
Another contract that was also approved was that of the office building for the Investments and Securities Tribunal.
The building, which will be located in Abuja, will cost 226 million Naira.
The tribunal is said to have, over the years, been grappling with the challenges of rent for its office accommodation and threats of eviction.