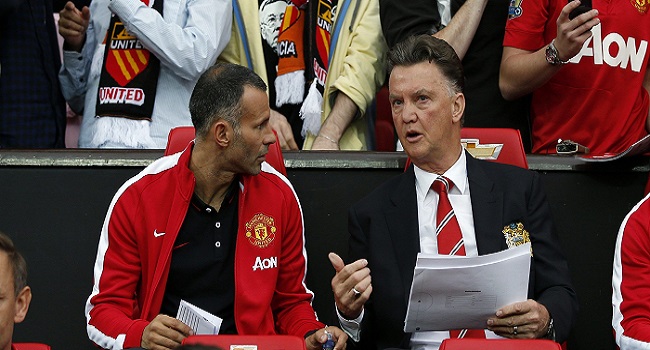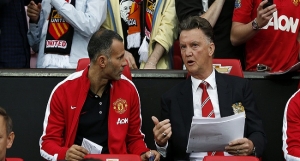 Manchester United Assistant Manager, Ryan Giggs, has dismissed rumours of a rift with boss, Louis van Gaal.
There had been stories of tension between the duo after Giggs acted reluctant to fully celebrate Ashley Young's winning goal at Newcastle on Wednesday.
The Welshman's friend and former team-mate, Paul Scholes, suggested Giggs "may not have the patience" to remain as number two for the next three years.
Scholes also speculated that he could not see Welshman Giggs being Van Gaal's assistant until the end of his contract in 2017.
He said: "There's no doubt, he had that little taste of it for the last three weeks of last year and he definitely wants to be a manager, you can see that.
"Over the next two or three years, will he have the patience to be a number two for that long? I'm not sure he will."
However, Giggs on the other hand, said the pair have a "great working relationship".
The 2-time UEFA Champions League winner said: "I'm working as hard as I can and enjoying every minute of it.
"It's coming to that part of the season where the media will look at any little thing just to make it more exciting and more interesting."
Van Gaal said he was "irritated" by suggestions of a rift between himself and Giggs, claiming they have a good relationship.
Giggs, who took over at Old Trafford for the final four games of last season following David Moyes' dismissal, was named assistant following van Gaal's appointment in May 2014.
The 41-year-old Giggs, who was the first player in history to win two consecutive PFA Young Player of the Year awards (1992 and 1993), said he was learning from working under the former Netherlands boss.
"I've really enjoyed working under him and learning something new everyday. I'm learning under a great manager," Giggs said.
"He's won everything and to work under someone like Louis is a great experience for me.
"He's been brilliant with me and given me a lot of responsibility.
"Each day I learn something different and I love working with the players.
"I've been given a great opportunity to be assistant of a club that I've spent my whole career at."