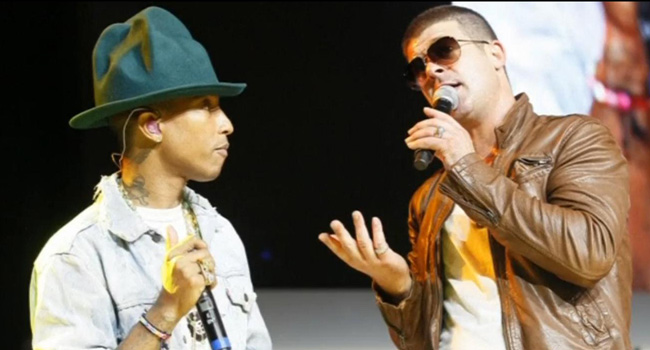 Pharrell Williams and Robin Thicke are to appeal the verdict which ruled that they copied a Marvin Gaye track.
Earlier this week, the U.S. District Court jury in Los Angeles sided with Gaye's estate, finding that parts of his 1977 hit "Got to Give it Up" were lifted by Thicke and Williams for their 2013 R&B chart-topper.
Heirs of the late soul singer, Marvin Gaye, won a $7.4 million judgement on Tuesday against recording stars Robin Thicke and Pharrell Williams, who a jury found plagiarized the Motown artist in the creation of their hit single "Blurred Lines."
However, the musicians' lawyer remained adamant Blurred Lines was original, as his clients insist it was created solely by them.
Howard King told Fox Business News, "We owe it to songwriters around the world to make sure this verdict doesn't stand.
"My clients know that they wrote the song Blurred Lines from their hearts and souls and no other source.
"We are going to exercise every post-trial remedy we have to make sure this verdict does not stand."
Mr King added that expert evidence in the case, which may have swayed the jury, should have been inadmissible.
He said, in particular, that the testimony from a musicologist that compared Blurred Lines with Got To Give It Up was based on elements of Gaye's song that were not on the original sheet music.
The attorney for Gaye's heirs, Richard Busch, had said that they would seek an injunction to halt further distribution of Blurred Lines.