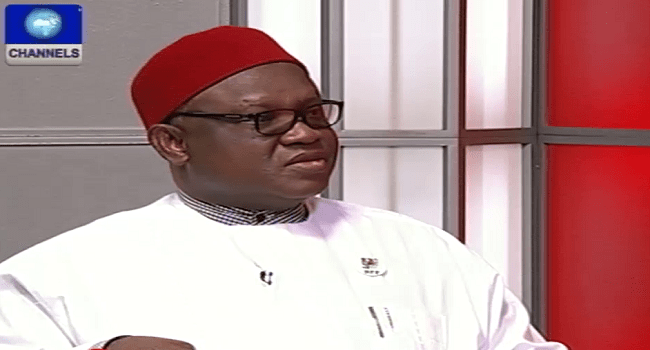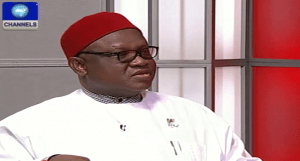 The Presidential candidate of the United Progressive Party (UPP) says the party is running a revolutionary agenda that is focusing on revolutionising the system of government in Nigeria.
Mr Chekwas Okorie, told Channels Television on Monday that he would ensure that Nigeria returned to a system of government that would promote true federalism and also implement the recommendations of the national conference held in 2014.
"We are coming with certain measures that no political party will have the courage to do.
"Declaration of public asset must be made compulsory for major office holders in the public service.
"There will be a legal obligation to make it public. The declaration will be reviewed every year so that Nigerians will follow your growth of asset to see whether it is n consonant with your income," he said.
Mr Okorie further said that his administration if elected would ensure that all funds received as security vote must be tied strictly to what it had been set aside for, emphasising that there would be no excuse for not accounting for security vote.
Immunity On Criminal Matters
He said that his party would focus on fighting corruption and providing a secured environment for Nigerians.
"You have to start from the top when you are talking about anti-corruption.
"There are some governors that get up to 600 million Naira every month for security vote, but those funds are not accounted for."
The UPP presidential candidate said that he would remove the immunity clause on criminal matters, which he said was covering major political office holders from being tried.
"From president to everybody, there will not be any immunity on criminal matters.
"There will be special court for criminal matters to make trials fast.
"When you have guidelines that will make corrupt practice unattractive, even the man setting at the bench in the court will also sit up because he knows that everybody is watching.
"The system has a way of corrupting people who come into it, but our party, with the Tiger insignia, tells you that we will come at everyone that wants to corrupt the system. Fighting corruption to a halt will give us the resources that we need to make everybody comfortable," he said, still reeling out the party's manifestos.
Government Of National Unity
Mr Okorie said that his party would not pledge allegiance to any other party before the elections, but would support a government of national unity.
"President Jonathan is beginning to promote a broad based government if he wins. We expect that a coalition of political parties will make the system work better.
"Nigeria is not structured for economic growth. We must go straight to true federalism where states, as federating units, will be encouraged to grow in their own pace.
"Every state in Nigeria is endowed with resources which when exploited can have comparative advantage over the others. You will have a healthy competition that will grow the economy.
"If elected, we will quickly implement the recommendations of the national conference. My government will actually promote the inclusion of an exit clause.
"Being afraid of people exiting is not the way to run a country. Ethiopia had a constitution in which there is an exit clause.
"No ethnic group in Ethiopia has opted for that option because the country is okay for everybody. Those ruling are now more circumspect in the sense that they know that the other person you are trying to cage in has an option.
"We are in a more position to canvass for that than Ethiopia because we have more ethnic groups than Ethiopia," he said.
The UPP presidential candidate expressed optimism that if the exit clause was added to the constitution no group would want to go.
To further strengthen the system, he suggested that the geo-political zones should be federating units, insisting that the goe-political structure existing in Nigeria was designed by the military.
"In the north-west we have 188 local governor and the north-east has only 95. And these local governments are factors considered in revenue allocations," he said.
On the preparedness of the Independent National Electoral Commission (INEC) for the elections, he said that the electoral body had given his political party confidence.
"INEC appears to be most prepared for the election. Certain measures have been put in place to assure credibility.
"There is hope that peoples vote will count. There will be far more participation than in the past. We are looking at 80 per cent collection of PVCs in this election. They are better prepared now," he said.
Two Parties Contesting
"We have never had anything close to 60 per cent participation in Nigeria's election. INEC was already above 65 per cent distribution before the postponement."
He said that his political party had not been as prominent in the media as the Peoples Democratic Party and the All Progressives Congress because his party had adopted a cost effective way of doing things.
"If you don't have the luxury to prosecute your campaign, you chose cost effective measures to canvass for vote.
"What has gone out there to the public is that there were only two parties contesting. The great interest that you are seeing now is because they are now more aware that there are more parties contesting," Mr Okorie said.