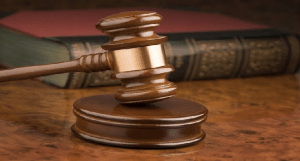 A Federal High Court in Abuja has reserved ruling till  March 23 to decide whether it has jurisdiction to hear the suit filed by one Chukwuwike Okafor and Donald Daunamigba challenging the eligibility of retired General Muhammadu Buhari to contest the 2015 general elections.
Justice Adeniyi Ademola would also rule on a request by the plaintiff to consolidate all the applications in the law suit.
At the resumed hearing of two suits filed by Chukwunweike Okafor and Donald Daunamigba, their lawyer Mike Ozekhome (SAN) told the court that he had received a number of preliminary objections and applications for joinder in the suit.
He, however, asked the court for accelerated hearing in view of the fact that the general elections are barely a week away.
According to him the court should consolidate all applications in the suit and decide on it, together with the substantive suit.
But lawyer to the All Progressive Congress (APC), Wole Olanipekun (SAN) and that of retired General Muhammadu Buhari, Mr Lateef Fagbemi were quick to reject the application.
According to them, there are conditions precedent to the hearing and determination of a suit, arguing that it is not a must in law that a pre-election matter must be determined before the said election.
After listening to all parties, Justice Adeniyi Ademola adjourned to March 23 to rule on the application.