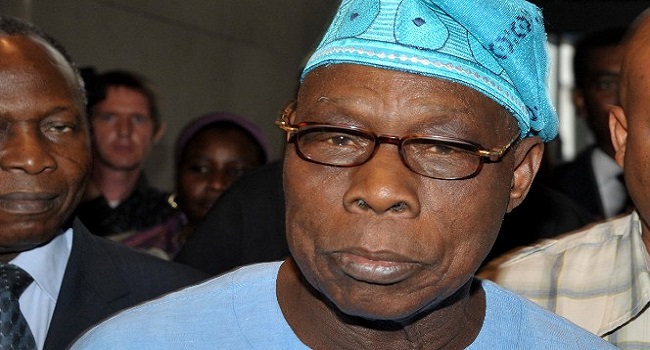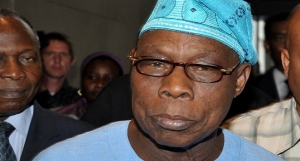 Nigeria would be a better place if women in the country properly play their roles as mothers and wives in nation building.
Former President Olusegun Obasanjo said this at his hilltop residence in Abeokuta the Ogun State capital when women from the All Progressives Congress (APC), led by the wives of their presidential and vice presidential candidates, Mrs Aishat Buhari and Mrs Dolapo Osinbajo, paid him a visit.
Mrs Buhari, during the visit, lauded the former president for viewing national issues without sentiments, saying "Baba exercises his prowess as a father, as a former Head of State of Nigeria twice, very few Nigerians have the opportunity to rule the country twice, we are here today to show our appreciation for the way you handle things as a statesman and a nationalist".
Obasanjo seized the opportunity to express his displeasure with the manner politicians have gone about their campaigns.
"You women, you have a role to play, and I mean that, when things are going wrong, if women don't act, things will continue to go wrong because you have ability to act. The men who invariably make things to go wrong are your fathers, your husbands, your sons, you sons-in-laws.
"With your husbands, you can have pillow talk but when things are going wrong and you do not talk or act, you will also be the greatest victim at the end of the day because it will have effect on your children and would have a direct effect on you and all of us," he said.
He expressed hope that "this will be the last time in the history of this country that we will have this type of campaign of hatred or division".
Chief Obasanjo also insisted that no government that is installed unconstitutionally would be accepted by Nigerians, making reference to rumours of an Interim Government and military take-over.
"The Intentional community will not condone it, particularly African Union where we have a situation, we have said and it is part and parcel of the constituting act of the African Union, any government that is brought about not on the basis of the constitution will not be accepted and tolerated and will not be a member of the AU until that government is dismantled," he added.
He also expressed hope that the March 28 elections, and the one coming after that would "provide the right lessons to learn from".
"Unfortunately, issues that should have been the main item of our campaign were not discussed. We have serious issues of security, economy, unemployment, youth unemployment infrastructure, etc. These are issues among others that I believe campaign of those who are interested in the present and the future of this country should be directed at.
"How are we going to get them? What are we going to do?  Not trivial issues of certificate, no certificate, not trivial issues of when somebody is talking about someone and whether one is a Nigerian or not."