At Least 7000 Persons Flee Bama Town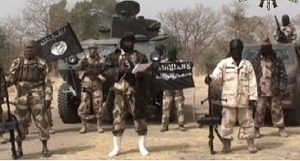 At least 7000 persons have been evacuated from Bama town of Borno State in north-east Nigeria.
The evacuees, mostly women and children fled from the Boko Haram after months of torture and near death experiences.
They have now found temporary shelter in make shift camps few kilometers away from Maiduguri, the capital city.
Bama was taken over by the militant jihadist group Boko Haram six months ago and locals held hostage by the terrorists.
Many fell victims of jungle justice by the insurgents who ruled the town with iron hands for months, until Nigeria's military launched an offensive against the onslaught.
Villagers were lucky to successfully flee the town to give way for likely showdown between federal troops and the terrorists.
The State Emergency Management Agency has been evacuating people from Bama town.
With casualty figure of villagers still vague, survivors recounted their ordeal in the hands of their captors.
Bintu Idrissa said, "Our captors sent us away from our homes so we escaped to the hills and took refuge there. We were there for six days until we were brought here by the State Government".
"For six months, they tormented and ruled over us harshly, killing and maiming at will. The terrorists banned us from traveling to Maiduguri and they made new laws each week. The penalty for every single offence is death by slaughtering but if you are lucky they shoot you with a gun" Musa Ahmed said.
Women and children, the old and young all bruised and traumatized, the villagers have come to terms with the new life terrorism has put them in.
The burden of catering and rehabilitation of the rescued locals now falls on the shoulder of the State Government.
Governor Kashim Shettima is however, heartbroken over the dark experiences the people have faced in the hands of the terrorists.
Officials said over 3000 people are yet to be evacuated from the troubled Bama town.