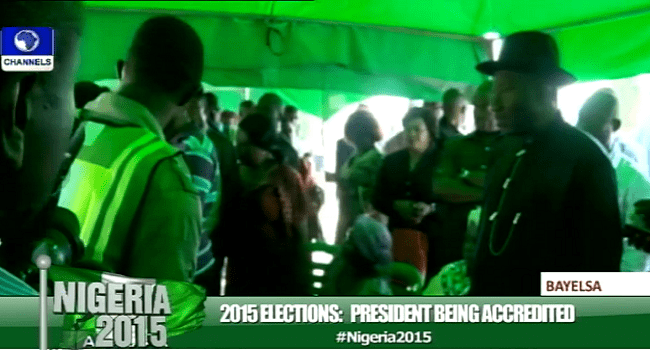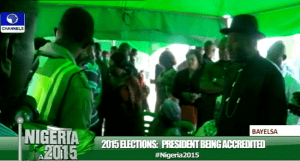 Accreditation process has started in Nigeria's election, but the process is drawing mixed reaction, as the incumbent President and the presidential candidate of the Peoples Democratic Party, Goodluck Jonathan, and his the First Lady could not be accredited with the card reader.
At his home town, Otuoke in Bayelsa State, President Jonathan's card and that of his wife, Patience Jonathan could not pass the process.
Channels Correspondent, Chukwuma Onuekwuzi reports that several card readers were tried but his card and that of his wife could not be read by the card readers.
Addressing reporters after several trials, President Jonathan urged all Nigerians to be patient with the Independent National Electoral Commission (INEC), expressing optimism that all Nigerians will that are willing to vote would vote.
President Jonathan says his interest is for INEC to conduct a credible election.
"No matter the hitches experienced in some places, my conviction is that the election will hold peacefully. If I can endure, you can see me sweating… I urge all Nigerians to be patient. If they have problems with their PVC there are other ways
"Our election is one that the whole world is looking up to. Any sacrifice is worth taking," he said.
The Director General of the News Agency of Nigeria, Ima Niboro, said he spoke with the Chairman of the INEC Professor Attahiru Jega, who he said gave approval for President Jonathan to be accredited "based on the register".
However, in Duara, Katsina, the presidential candidate of the opposition All Progressives Congress, General Muhammadu Buhari, and his wife, Aisha Buhari, were accredited without any hitch.
After about an hour, President Jonathan and his wife returned to the polling unit in Otuoke, and were accredited without the use of the card reader.
After the accreditation he said: "I encourage Nigerians to be patient with INEC. Everybody will vote, even if the card readers have issues.
"It is new and anything new you must have challenges. I will be back about that time to vote.
"INEC will have a way to handle delayed accreditation and I believe they will follow the guidelines to ensure that all Nigerians willing to vote will vote".