Jonathan Votes, Says He Is 'Hopeful'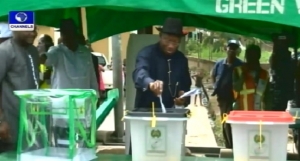 President Goodluck Jonathan has cast his vote in his home town, Otuoke in Bayelsa State.
President Jonathan and his wife, Patience, were among the first voters to cast their votes in the state after voting started at about past 3pm.
Addressing reporters after casting his vote, President Jonathan urged Nigerians to be patient with the electoral body despite the issues with the card reader reported at some polling units.
After voting, President Jonathan said: "Let me again use this unique opportunity to congratulate our dear country Nigeria and everyone in Nigeria.
"We appreciate the patience of everyone.
"INEC wants to use the card reader to make sure that electoral process is credible and acceptable by international electoral observers. I believe that at the end of the day we all will be happy.
"INEC has the responsibility to talk about their functions. There are complaints that the card readers are not working in some poling units. INEC has given a go ahead that where card readers are not working, they should be done manually," President Jonathan said.
While pleading with Nigerians to be patient with the INEC over the hitches, the President explained: " I am not putting blame on INEC, Judiciary of anybody. It is one government. The issue of elections is INEC's exclusive responsibility. Jega is the one that will speak for the government".
President Jonathan said he did not think the issue of card reader was limited to Bayelsa State but added that he was very hopeful the issues would be resolved.
"We have similar situation in Anambra, Delta State where the governors have called. INEC has directed that where the card readers are not working, they should take the manual option. APC states not having the challenge maybe a coincidence. I do not think it is limited to Bayelsa, " he said.
The President also expressed optimism that the process would be peaceful as he was not aware of any violence anywhere.
He added: "I heard that there was an explosion but I asked the Governor and he said there was no blast in Enugu.
"What happened in Gombe State is that, you know that the war against terrorism is still ongoing, and the military was accosted by militants. It has nothing to do with the election".