Obasanjo Confident Of Nigeria's Unity And Future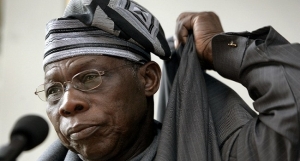 A former Nigerian President, Olusegun Obasanjo, has expressed confidence in the unity and future of Nigeria despite the many challenges slowing down its development.
After casting his vote in Ward 11 in his home town, Abeokuta in Ogun State, the former President said that the outcome of the elections could shape the nation's democracy and democratic process.
The exercise in Abeokuta, the state capital, was peaceful despite the initial challenges experienced.
Accreditation of eligible voters commenced behind schedule in some polling units, as officials of the Independent National Electoral Commission (INEC) and materials came in late.
However, when the accreditation got underway, the exercise was hitch free, and orderly.
At other poling units, especially Ward 11 Totoro, Polling Unit 21, no INEC official was seen around, a situation the resident electoral commissioner said had been addressed
Leading the State Commissioner of Police and other security chiefs during the exercise, the Deputy Inspector General of Police in charge of the south-west, Ashimu Argungu, commended the peaceful conduct of the election in the state.