PDP Will Live To Fight Another Day – Fani-Kayode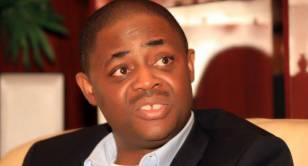 The spokesperson for the President Goodluck Jonathan Campaign Organisation, Femi Fani-Kayode, has congratulated General Muhammadu Buhari on his success in last Saturday's presidential election.
Mr. Fani-Kayode also commended President Goodluck Jonathan for rising above party politics, by conceding defeat and congratulating General Buhari.
He also commended President Jonathan for having the courage to admit that he had lost and for being able to speak like a statesman.
The President's campaign spokesperson made the comments as he addressed what is considered his last press briefing in that capacity.
He urged Nigerians to continue to uphold Nigeria's democracy and support the Peoples Democratic Party even though they lost the 2015 presidential election.
In his closing remarks, Fani-Kayode said that the PDP will "live to fight another day".