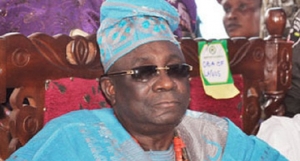 The Alliance for Democracy (AD) has described recent threats made by the Oba of Lagos to Igbos in Lagos as a mere joke and should not be taken seriously.
Presidential candidate and National Chairman of the party, Rafiu Salawu underlined that no one irrespective of tribe or religion can be coerced into voting for a candidate of any party.
Speaking to journalists in Abuja, the AD presidential candidate said that Igbos have a right to contest without fear, expressing optimism that the new dispensation of government has come to seal the true meaning of democracy in the country and the leadership of the party has vowed to stand by it.
The Oba of Lagos made a comment that has been described as a threat to Igbos living in Lagos, to vote for the governorship candidate of the All Progressives Congress (APC), Mr. Akinwumi Ambode, or else they will die in the lagoon.
However, the royal father, who in a statement tried to clear the air on the issue, restated his commitment to ensuring the peaceful coexistence of all residents of Lagos State irrespective of tribe, religion or political persuasion.