Nigerian Troops Clear Terrorist Camps In Alagarno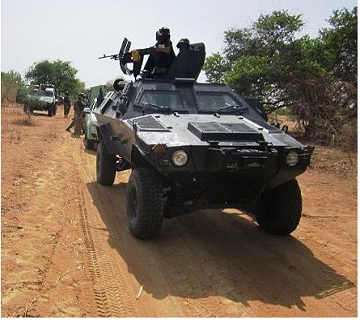 Nigerian troops fighting terrorists in the north-east region of the nation have successfully cleared all terrorists' camps in Alagarno, Borno State.
The raid of the Boko Haram terrorists' camps was completed on Tuesday morning, the military spokesman, Major General Chris Olukolade, said in a tweet on Tuesday.
"@DefenceInfoNG: Nigerian troops this morning successfully completed a raid on all terrorist camps in #Alagarno, #Borno state." #NeverAgain

— Gen. Chris Olukolade (@GENOlukolade) April 7, 2015
Counter-terrorism efforts were re-enforced after the Nigerian government secured arms from South Africa and Russia weeks before the nation's election was postponed by six weeks.
A Multi-National Joint Task Force has been set up, comprising Nigeria, Niger, Chad and Cameroon to boost the fight against the Boko Haram terrorist group, which has been trying, for over five years, to set up an Islamic State in the region.
Last month, Adamawa and Yobe States were cleared of terrorists, after the electoral commission postponed the elections by six weeks, citing military advice.
The chairman of the Independent National Electoral Commission, Professor Attahiru Jega, told reporters on February 7 that the postponement was in line with the advice by the military, which he said requested for more time to clear the Boko Haram terrorists from communities they were occupying in the north-east region to enable residents of the area participate in the elections.
The Presidential and National Assembly elections were held on March 28 while the governorship and House of Assembly elections will hold on April 11.