Nigerians Should Build On Presidential Election Success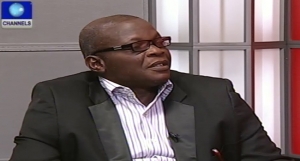 A Fellow of the Chattered Institute of Personnel Management, Ibrahim Abdullahi, has suggested that ahead of the governorship and state assembly elections on April 11, Nigeria must build on the success of its presidential election by paying special attention to some trouble spots judging by the result of the March 28 election.
Mr Abdullahi, who is also the Vice Chairman, Mediation and Conflict Resolution Committee of the institute, was speaking on Channels Television's Sunrise Daily.
"I think the most important issue people should ruminate on or talk about and work upon is to build on the success we have achieved during the presidential and National Assembly elections.
"Kudos to the President-elect, President Goodluck Jonathan and the National Peace Committee, for the wonderful job they have done," he said.
Explaining further his suggestion, Mr Abdullahi stated that crisis could arise in 18 states in the federation. He named Lagos, Osun and Ondo as the states security agencies have to put under close watch in the South-West region.
He said that issues could arise during Osun State House of Assembly election because the sitting governor is a member of the All Progressives Congress (APC) and some members of the Peoples Democratic Party (PDP) in the state are threatening to unseat the APC members of the House.
Speaking about Lagos State, Mr Abdullahi said that the votes the PDP got during the presidential poll was a surprise to many, especially the ruling APC and they would be working hard to prevent another close contest in the governorship election.
In Ondo State however, he explained that the APC sees the PDP Governor's inability to deliver the mandate of his party during the presidential poll as an opportunity to take over, which they are threatening to.
He added that this is further made worse by the Deputy Governor of the state, Mr Ali Olanusi, who has defected to APC.
Mr Abdullahi also named Anambra, Imo and Ebonyi states in the South-East.
He cited the frosty relationship between the Anambra State Governor, Willie Obiano, and the PDP following the last election as well as allegations in Ebonyi State that their PDP Governor sponsored a candidate of the Labour Party during the National Assembly elections.
Other states mentioned are Rivers and Edo states in the South-South region; and Kogi, Nasarawa, Benue, Plateau, Niger, North East, Adamawa, Bauchi and Taraba in the North Central.