Lagos Elections: Lai Mohammed Accuses Jonathan Of Plot To Rig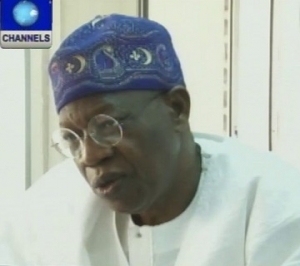 On the eve of elections, the All Progressives Congress, APC, has made very strong allegations of rigging against the Peoples Democratic Party, PDP.
The Spokesperson of the APC, Lai Mohammed, alleged that the reason why the President was in Lagos on Thursday was to put finishing touches to the rigging plot.
"The plan is to use thugs and militants who have also been imported into the state to intimidate voters, snatch ballot boxes and provide cover for the PDP to announce false results.
"Fake ballot papers as well as result sheets are already being issued to the PDP.
"As we said in our press statement earlier today, the President flew into Lagos on Thursday expressly to oversee the PDP's rigging plans. He met with his point men; Musiliu Obanikoro, Jimi Agbaje and Gani Adams, apparently to hand over the war chest to them," Mohammed said.
Lai Mohammed Is Wrong – Abati
However, the Presidency has swiftly condemned the claims by Mr Lai Mohammed.
The Presidency described as false
hood and rude, the statement by the APC Spokesman, Mr Lai Mohammed that the President, Dr Goodluck Jonathan was in Lagos on Thursday to rig the governorship and state assembly elections.
Presidential spokesman, Reuben Abati said that there was nothing unusual with the visit on Thursday than the usual homage to the leader of the PDP.
He said the President did not meet with INEC officials, the Police or polling officials or anyone involved in organising the elections.
"So to say the President went to Lagos to supervise rigging of the election is most uncharitable and cruel," he said.
He added that President Jonathan is "a man of honour who has left a worthy legacy that should not be dented by Lai Mohammed" and that at this point in time "the President should be left alone".
The Presidency advised that the All Progressives Congress (APC) should look for another target and not the President.