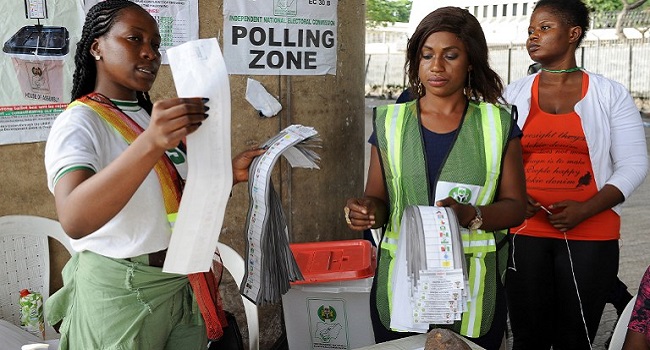 The Independent National Electoral Commission in Nigeria (INEC) has warned that it may have no other option but to cancel results in some areas where the state returning officer recorded violence.
The spokesman for the INEC chairman, Mr Kayode Idowu, said the commission had recorded reports of electoral violence in some places and would deal with it appropriately.
"We have received reports of incidents of Security breaches in some areas, particularly in Rivers State, but security agents have been on top of their game and we have been able to also conduct elections in those hot spots.
"There are areas where you have incidents of violence. Generally speaking, the election went on across the country.
"There are report of breaches of the peace in Abia State. There are challenges to the peace in many of the areas," Mr Idowu said, confirming reports of violence in some areas.
He, however, said that reports received by the commission also showed that elections had gone on quite well in all the states.
Returning Officer To Decide
Reports of violence in Abia, Akwa Ibom and Rivers State, have led to calls for cancelation of election results in some of the places where violence was recorded. But Mr Idowu said that the Returning Officer reserved the right to decide if the elections in the areas would be canceled.
"There are guidelines and rules that the commission applies for dealing with cases where you have unwarranted infringement on the process, like ballot box snatches and stuffs like that.
"The Returning Officer is empowered to take a decision on what to do with areas where there have been violation of the process, like snatching of the ballot box or card readers.
"If the Returning Officer considers it serious enough, he can cancel or void the elections in such areas. The decision resides with the Returning Officer.
"If you have elections voided in any area, you will have to look at the balance when the result in other areas are collated. The difference between the leading candidate and the runner-up, if the outstanding votes are added to the runner up and it makes a difference to who leads, then that is significant.
"If the addition does not make a difference then you cannot say it is significant," Mr Idowu explained.
He, however, said that there were no reports sent to the INEC that showed there was an entire area where election did not go on.