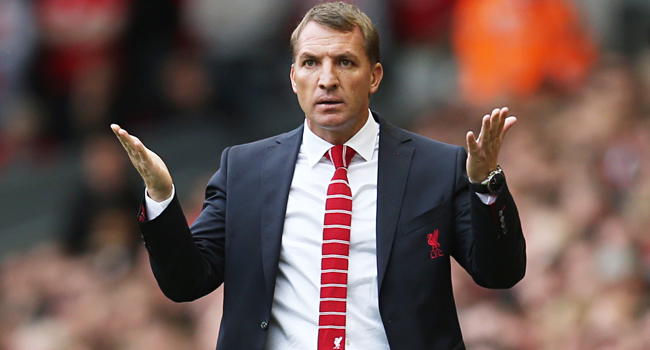 Brendan Rodgers has pledged that Liverpool will fight 'until the very end' for a top-four position after watching his side close the gap with a 2-0 victory over Newcastle United at Anfield.
Raheem Sterling and Joe Allen were on target in either half for the Reds against the Magpies on Monday night to secure a return to winning ways in the Barclays Premier League.
The win was the required response following back-to-back defeats by Manchester United and Arsenal and moved Rodgers' side to within four points of Manchester City in fourth.
"We're going to fight right until the very end," the manager explained to reporters at his post-match press conference from inside the stadium.
"We were obviously on a great run and we won 10 out of 13 games, which has given us a chance. We had two disappointing results. But we're a group that is very much learning.
"We knew we had to respond to those two defeats – we got ourselves into the semi-finals of a prestigious cup competition and won tonight, which was important for us."
The race for Champions League qualification is still very much alive then with six matches remaining in the campaign, and City now much more within reach.
Asked whether he believes the gap can be successfully eradicated by his team by the end of May, Rodgers responded: "The players are really set.
"There are obviously teams still above us and four points is the difference, but as we saw last year there can be a lot of changes and I still think there will be changes and points dropped in the last six games.
"For us, it's important that we can just focus on getting wins and see where it takes us. I feel that the players and I are very motivated to do the very best that we can.
"We've shown that we can put wins together consistently. It's a very hungry group that's improving and getting better. We've got important players coming back now, which is good news.
"We feel we have every chance. Of course, we're looking for other teams to slip up, but we've got to continue winning. If we can do that, we'll give ourselves a chance."
The Reds edged ahead of Newcastle after just nine minutes, Sterling collecting a raking pass from Jordan Henderson, jinking inside from the left and sending a finish curling past Tim Krul.
John Carver's team battled back and troubled the home defence but Simon Mignolet stood firm, allowing Allen to crisply knock in a half-volley at the Kop end to secure the points.
The boss said of the opener: "It was a wonderful touch by young Raheem and it was a great ball by Jordan. He took a touch in a tight space and then he's worked his magic in the box.
"It was a great finish and we needed that because we didn't start great in the first seven or eight minutes, but once we got the goal, I thought that then we had good control of the game.
"It was a good performance. I thought that our attacking play in the game was very bright. I thought we looked really exciting going forward.
"We worked very, very hard on the back of the midweek game, which was a tough game. We know Newcastle have got good players that can hurt you, especially on the counter-attack.
"We had a lot of the ball tonight – at times our possession could have been better. I thought that we were a bit loose at times with the ball.
"But I thought we had real attacking intent in the game and we created chances. We maybe could have got one or two more goals. But a clean sheet and to win 2-0 at home against Newcastle was an important result for us."
Culled from http://www.liverpoolfc.com