BBOG: Falana Condemns Inability To Rescue Girls One Year After
A Senior Advocate of Nigeria, Mr. Femi Falana condemned the continued abduction of the girls and the inability to rescue them one year after.
Mr Falana was speaking during a vigil held by the Lagos Chapter of the Bring Back Our Girls Campaigners in Ikoyi.
"These girls have been away for one year and their parents have had their hopes dashed> It is very sad and that is why we are united here today in demanding for the release of these girls
"The government must intensify all efforts to have these girls released", he said.
The Coordinator of the Lagos Bring Back Our Girls Campaign, Mrs Aisha Oyebode, commended the military for recapturing towns hitherto under the control of Boko Haram, but wondered why "if girls could actually escape on their own, why can't we go in there and rescue the ones that are remaining", she said.
She also added that "it has been a long and sad year", and "we never thought that it will take this long.
"We have said it that it is not a sprint, it could be a marathon, but as long as it takes, we will continue to campaign until these girls are found and brought back to their parents", she maintained.
Human rights activist and lawyer, Missus Ayo Obe on her part accused the Federal Government of using the kidnapped girls as a "political football.
"Even the British government has released a statement on the one year anniversary of the terrible abduction but our government has remained deafeningly silent.
"The foreign office in London is issuing a statement, the President-Elect (Muhammadu Buhari) is issuing a statement, but the president seems to have felt less concerned because he didn't win the election; therefore he doesn't have a job to do anymore.
She noted that President Jonathan will leave his footsteps in the sands of time should he ensure the safe return of the girls before the end of his tenure.
"It will be a crown of glory for the president", if he shows that " everybody that he is serous about his role as President of Nigeria and Commander-In-Chief of the armed forces and make sure that before he leaves office, he will bring back those girls", she said.
One of the relatives of the kidnapped girls, Maina Yahi Mohammed, in an exclusive interview with Channels Television narrated the ordeal of his family since the sad incident, maintaining that it has been  hell on earth for them.
"It has been hell for me particularly, because I actually lost my nephew and my cousin; they were killed by Boko Haram in August of 2014.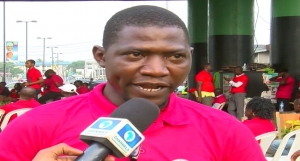 "Regarding the Chibok girls, I have two cousins among them and since then, the family has been traumatised and our home has been like hell, because it is better to see their dead bodies than hearing that our daughters; our sisters have been kidnapped.
Channels Television's Victor Mathias reports that out of the 276 girls abducted, 59 escaped captivity, none have been rescued and 219 still remain in captivity.
He adds that 11 parents of the missing girls have also died since the incident occurred on April 14, 2014.