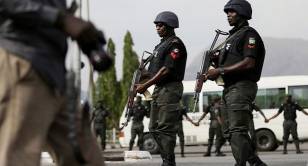 Some Civil Society Groups in Nigeria have given a report on the conduct of security personnel during the general elections.
The groups attributed the "poor conducts" of police officers in some states, including Rivers and Akwa Ibom, to undue influence from contending politicians and serving governors in the affected states.
Addressing a press conference held on Wednesday in Abuja, Nigeria's capital, the groups said huge influence from the politicians led to serious compromise by security officials during the Governorship elections held on April 11.
The groups rated the conduct of security officials, especially the police during the governorship elections, lower when compared with the presidential elections.
The 2015 elections are over except for some states where INEC said elections were inconclusive.
They, however, pointed out that security officials were more civic in the discharge of their duties while the elections lasted.
The Executive Director of Cleen Foundation, Kemi Okenyode, attribute the "poor conducts" of security officials in some states including rivers and Akwa Ibom to influence from politicians.
Despite the shortcomings, however, the Chairman of Cleen Foundation, Etannibi Alemike, said the conduct of security officials during the 2015 elections was an improvement compared to previous elections.
The groups further recommend prosecution of electoral offenders, including prominent politicians and security officials found wanting, stressing that it would lead to more improved elections' security in the future.