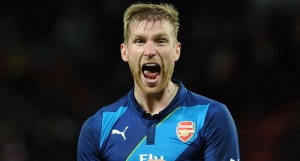 Arsenal Captain, Per Mertesacker, says the squad is approaching Saturday's FA Cup semi-final against Reading with vivid memories of last year's tough semifinal against Wigan Athletic.
Mertesacker said that the Gunners have learnt lessons from their exit from the UEFA Champions League and cannot afford to make mistakes
The German defender believes the game will be tough but expects his team to win the encounter.
"It is going to be their biggest game of the season so to mentally prepare that is going to be difficult, not just to match their physicality and mental strength but to do more, to be on the ball from the start," Mertesacker said.
"[We need] to show them respect but no fear for the pressure. The winning streak helps us a bit but this competition is completely different.
"It is the best competition I have ever played in because so many big teams struggle. But I don't want to struggle.
"I want to repeat the success. That is my real target so let's make sure that we are on the same level and do more than our opponent.
"The mental side of that [Wigan] game was really tough and we need to repeat that to show that we're good enough and mentally good enough to repeat that.
"On the football side we're good enough but sometimes you need to put in some different qualities nobody expects from you.
"We had some different games when you think of Manchester City away – nobody expected us to play like that, focusing on our own defence and then getting them on the break. That was something new for us as a team.
"We need a special performance on Saturday as well to release that pressure."
The Gunners have won 16 of their past 18 matches and are heavy favourites to progress against Championship side Reading.
However, Francis Coquelin – who played against the Royals earlier this season while on loan at Charlton – says they will have to make a fast start to the match.
"You know the FA Cup, you don't know what to expect – any team is ready for it and it is always a tough game at any stage," he told Arsenal Player.
"A semi-final at Wembley will be even tougher. We need to be ready and start on the front foot. Hopefully we can do that and win the game.
"I remember a tough game [against them for Charlton]. We won 1-0, but to be honest I don't think we really deserved it.
"They put a lot of pressure on us, they have Pogrebnyak up front who is a big threat, and on the wings they have great players as well. We know it will be a tough game, it is a semi-final and the league you play in doesn't matter.
"Whether you are in the Championship or the Premier League, in a game like this the team who puts the most pressure on and creates the most chances will win. If everyone is focused, we know we can get a good result."