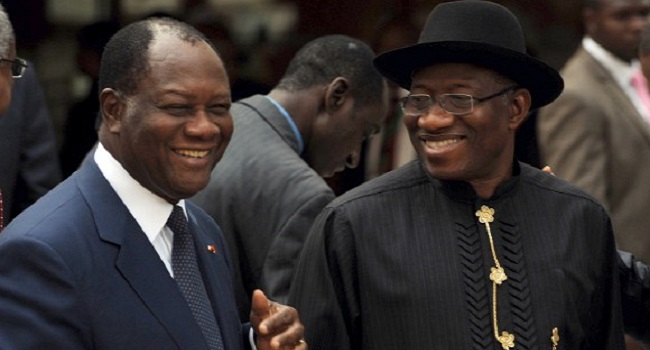 The President of Cote D'Ivoire, Mr Allassane Ouattara, has described Nigeria's presidential election as a legacy that all the countries in the African continent should emulate.
Mr Ouattara made the remark after holding talks with the President of Nigeria, Dr. Goodluck Jonathan, in Abuja, Nigeria's capital city, on Monday.
The Ivorian President, who was at the Presidential Villa at about midday, congratulated President Jonathan, the Nigerian people and the President-elect, General Muhammadu Buhari.
He stressed that what happened in Nigeria was a lesson for all, apparently referring to the decision by President Jonathan to concede defeat even before the winner of the presidential election was declared.
Mr Ouattara further extolled the leadership qualities of the outgoing President, describing him as, first a West African before a Nigerian.
He talked about his experience in the presidential election that brought him to power and how the then President of Cote D'Ivoire Mr. Lauren Gbagbo, holed him into a hotel for four months after the election.
Mr Gbagbo had rejected the election results and refused to hand over to Mr Ouattara, a decision that led to a civil war that claimed the lives of over 3,000 people five years ago.
He said that avoiding violence and civil war during elections in Africa should be the utmost objectives of those who want to lead, emphasising that people are more important than power.
He also thanked President Jonathan for the leadership role he provided for the ECOWAS, his commitment to fighting the Boko Haram sect and his interventions in the return of peace in countries like Mali, Guinea Bissau and Togo