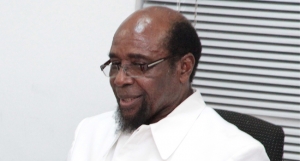 The National Assembly on Tuesday suspended plenary to honour the late Senator Uche Chukwumerijie who died on Sunday evening.
Federal lawmakers from the Senate and the House of Representatives took turns to sign a condolence register at the entrance of the Senate chamber.
Senate President, David Mark, described the late Senator Uche Chukwumerije as national hero who was a pan- Nigerian and an unrepentant crusader for the respect for human rights and rule of law.
The former Information Minister and Senator representing Abia North Senatorial District, died on Sunday, April 19.
This was disclosed in a statement by his first son, Chidi Chukwumerije.
The statement read; "On the evening of Sunday, the 19th of April, 2015, surrounded by his family, Comrade Uche Chukwumerije passed into the open arms of history, and of our Lord Jesus Christ, after a long but gallant battle with lung cancer.
"His life is many volumes, which can only be told with care and time, of dedication and focus, integrity and discipline, and an unbroken love for the highest ideals of our shared humanity.
"Details of burial arrangements will be announced in due course. We ask only for your prayers and good wishes."
Senator Chukwumerije served as Minister of Information during the military regime of Ibrahim Babangida.
Born November 1939, he was elected a Senator of the Federal Republic of Nigeria in April 2003, representing Abia North Senatorial District on the platform of the PDP.
He studied Economics at the University of Ibadan.