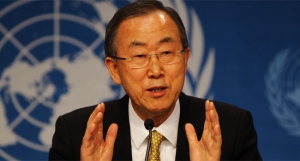 United Natons (UN) Secretary-General, Ban Ki-moon has expressed "deep regret" over Indonesia's execution of eight people convicted of drug offences.
The seven foreigners and one Indonesian were executed by firing squad on Wednesday, causing diplomatic fury.
In a statement, the Secretary said that the death penalty had "no place in the 21st Century", urging Indonesia to spare all other death row prisoners.
Indonesia has firmly defended its actions as part of its "war on drugs".
The Indonesian Attorney-General, Prasetyo had earlier said that "Execution is not a pleasant thing. It is not a fun job, but we must do it in order to save the nation from the danger of drugs."
Among the executed prisoners were two Australian men – Andrew Chan and Myuran Sukumaran, one Brazilian Rodrigo Gularte, one Indonesian and four Nigerians – Martin Anderson, Okwudili Oyatanze, Jaminu Abashin and Sylvester Obiekwe, all convicted of drug smuggling.
Australia has recalled its ambassador in protest.
Mr Abbott on Wednesday described the treatment of the Australians as "cruel and unnecessary", calling it a "dark moment" in Australia's relationship with Indonesia.
"We respect Indonesia's sovereignty but we do deplore what's been done and this cannot be simply business as usual," he said.
The Nigerian government has asked the Indonesian Government for the repatriation of the remains of executed Nigerians, in order to be accorded decent burial in their various communities.