Jonathan Receives Presidential Campaign Report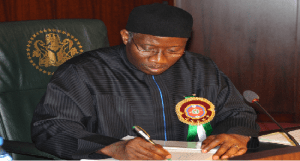 The Nigerian President, Dr. Goodluck Jonathan, has received the report of the PDP's 2015 Presidential Campaign.
The report was submitted to him by the Director-General of the Jonathan/Sambo Campaign Organisation, Dr Ahmadu Ali, at the Presidential Villa in Abuja.
The Director-General, before the presentation of the report, recalled how the organization was constituted and what they did within a short period of time.
He commended the President for the action taken following the outcome of the results and then presented the two volume report which he said would provide a road map for moving the PDP forward.
The President said in his reaction, "The important thing is not that PDP lost the elections, but that Nigeria as a nation has moved forward and political parties can only thrive when there is peace in the country."
The Nigerian President also told his party men that the result of the election should be taken as history, while they strategise on how to consolidate and bounce back in 2019.
He called on his party men to remain loyal as those who left the Peoples Democratic Party (PDP) would come back to the party when their stomach is empty out of hunger because the other party would take care of their loyalists before reaching out to those who cross carpeted.
Responses also came from the Vice President, Namadi Sambo, and the Chairman PDP Board of Trustees, Chief Tony Anenih, who said that they were very proud of the President for bringing a new dimension to the electoral process in Nigeria and the peace the country is enjoying.
They both stated that it was indeed time for the PDP to regroup and bounce back.