Nigerian Army Rescues More Women, Children From Sambisa Forest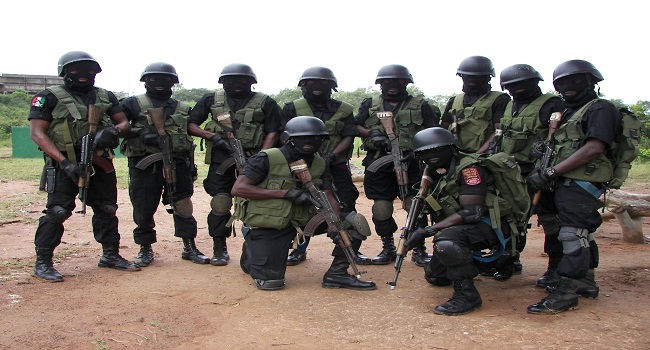 The Nigerian army on Thursday confirmed the rescue of more women and children from Sambisa Forest barely 48 hours after the rescue of 200 girls and 93 women from the alleged stronghold of the dreaded Boko Haram terrorists.
Making the announcement via its twitter handle, the Nigerian Army said "The 7 Division #NA on 29 April cleared several strong points and training camps within Sambisa forest. Additional women and children rescued".
The 7 Division #NA on 29 April cleared several strong points & training camps within Sambisa forest. Additional women and children rescued

— Nigerian Army (HQ) (@HQNigerianArmy) April 30, 2015
Some 200 girls and 93 women held hostage in Sambisa forest by members of the Boko Haram terrorists group were rescued by Nigerian troops.
The Borno State government, however, says all 293 rescued women and girls from Sambisa Forest are indigenes of Bumsiri Village of Damboa Local Government in the state, dousing hopes that some could be the Chibok girls abducted on April 14, 2014.
The state's Commissioner for Information, Mohammed Bulama, confirmed the latest discovery on Tuesday while briefing reporters on the development.
Meanwhile, the Acting Director, Army Public Relations, Colonel Sani Usman, via a statement on Wednesday in Abuja confirmed the death of one soldier, adding that four others were injured as Boko Haram terrorists battled in vain to retain nine major camps in the dreaded Sambisa forest where more women and children were found and rescued.
He further noted that "troop commanders and hundreds of Boko Haram insurgents were killed in hours of gun battle.
"I wish to inform you that today (Wednesday) evening, troops of 7 Division Nigerian Army also cleared several terrorists strong points and training camps within Sambisa forest, Borno State, Nigeria.
"The troops have also rescued additional women and children. They have been evacuated to a safety zone for further processing.
"During the encounter unfortunately we lost a soldier, while 4 others were wounded in action. The troops have also killed several Boko Haram field commanders and foot soldiers and destroyed 2 Armoured Personnel Carriers, 2 Buffalo vehicles mounted with Anti-Aircraft Guns, a truck and several Hilux vehicles.
"The gallant soldiers also recovered 1 Anti-Aircraft Gun, 1 General Purpose Machine Gun, 1 Rocket Propelled Grenade and several AK-47 rifles. Sadly, 1 woman died and 8 other women sustained gun shot wounds.
"So far, the troops have destroyed 9 terrorist camps in the forest. This is in addition to the 4 destroyed yesterday. The destroyed camps includes Wulari Bukar, Gangala, Anguwar Bakwai and Jigide. Others include Kotorima, Lagara Bello and Lagara Fulani among others.
"I am glad to say that troops' morale is very high as they are poised to accomplish the task of destroying all terrorists camps and rescuing all those held hostage by the terrorists".
The Director Defence Information, Major General Chris Olukolade is billed to provide updates on the ongoing counter-terrorism campaign in the the North-Eastern part of Nigeria.