Obiano Signs $61m Poultry Farming MoU With Lynden Farms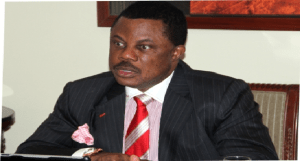 The Anambra State Governor, Willie Obiano, has signed a $61m Memorandum of Understanding (MoU) with Lynden Integrated Farms Limited for the establishment of a modern poultry production and processing farm in the state.
The Governor, during the occasion at the Governor's Lodge, Amawbia in Awka, the Anambra State capital, emphasised that agriculture remains the number one pillar in his economic agenda for the state, revealing his determination to turn Anambra State into a model agricultural state.
He stressed the plans to expand the agricultural landscape of the state, noting that he would want to change the trend whereby all day old chicks sold in the South are brought in from the West.
Governor Obiano further expressed that he was planning towards establishing a favourable and sustainable environment for commercial agriculture to thrive in Anambra State more than any other state.
The Chairman of Lynden Integrated Farms Limited led executive officers of the company to the Governor's Lodge to seal the business contract with the state government.
The Chairman, Mr Clem Nwogbo, while stating the benefits of the project, said that the project has the capacity to position Anambra State as the center of excellence in poultry farming in the south-east and south-south.
He noted that this would be based on his company's ability in developing a two-phased modern integrated poultry production and processing plan with day old chicks, and subsequently upgrading its facilities to provide high quality eggs from layers as well as fresh and frozen meat from broilers.
The Chairman of Anambra State Investment Promotion and Protection Agency (ANSIPA), Mr Cyril Enwezor, gave the statistics of the equity ratio of the business which gives the investing company 90%, 6% for the state government and 4% for the host community. The company would also maintain a robust corporate social responsibility to the host community still.
The proposed project would be located on seven hectares of land in Igbariam. It would generate 250 jobs during construction, 200 permanent jobs, as well as 2,000 indirect jobs subsequently.