Arik Air Resumes Limited Operations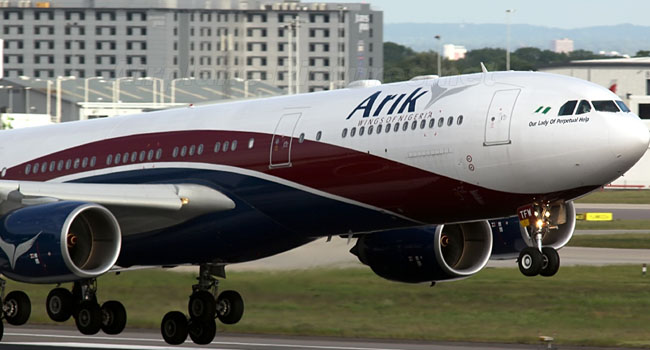 Nigeria's flag carrier, Arik Air, says it will resume limited operations on Sunday, May 3.
The Associate Vice President, Marketing and Communication, Jide Alade, made this known in a statement on Saturday.
"Arik Air resumes limited operations on 3 May with flights to London, New York JFK, Johannesburg and on limited domestic and regional routes.
"You will recall that the airline had cancelled all of its flights for today due to the scarcity of aviation fuel.
"Schedule and regular updates are available on their website," he said.
Arik has been operating 20% of its daily flights schedule because of scarcity of aviation fuel, particularly in Lagos, its major hub.
The airline had on Friday, at a press briefing in Lagos, said that if the aviation fuel scarcity persisted, it could be forced to scale down more of its operations.
The airline, while apologising to customers about the delays and cancellations, explained that its 600-800 litres of fuel for its daily operations and current supply was lean and international flights have had to go to Ghana, Cotonou and sometimes Togo to get fuel before proceeding to London or the United States.
The airline operates about 120 flights on its domestic routes daily.