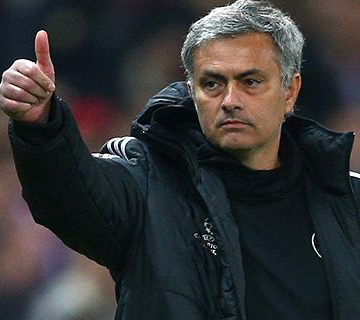 Chelsea manager, Jose Mourinho, feels his side are worthy champions after winning his third Premier League title with the club.
Mourinho paid tribute to his side for the spirit they've shown at various times during the campaign.
"We were convinced for a long time but my experience and maturity was always present and in control of the emotions and the situation.
"We are champions now but during the season we had some crucial moments we coped with in a fantastic way. On 1 January when we were level on points with City after a heavy defeat at Spurs, instead of being a turning point it was our last defeat.
"From that moment we haven't had one single defeat. The team were always there, everybody knows we deserve it," Mourinho told Chelsea TV.
Speaking after their title securing 1-0 victory over Crystal Palace on Sunday afternoon, Mourinho said that he believes his side have shown a lot of qualities throughout the season.
"We showed absolutely everything football demands from a team since day one; fantastic attacking football, fantastic domination, high percentages of ball possession, we gave the ball to the opponents strategically, we defended well.
"The game today was a good example: Crystal Palace gave us a counter-attack game, we coped with that. We scored our goal, we changed the team and in the second half, with Mikel and Matic in midfield, we controlled the game completely.
"In the last part of the game they played with one target man, we coped with that. In the final few minutes they played with two target men, we coped with that. We did everything a team needs to do. That's why we are champions and why we deserve to be champions, I think everybody knows that."
Mourinho was asked to compare this title triumph to his previous two as Chelsea manager.
"The first one was difficult because it was our first one in the Premier League. The second one our team was so strong and stable, with so many big players in the best years of their careers. This one is completely different, the league is different, Chelsea are different, opponents are different.
"My team is one where so many of them have won the league for the first time, that's something they have to learn to do. I'm so happy for them. Because of everything we've done since day one I feel we got what we deserved."
The Portuguese also explained why Ramires played no part in the match, "Ramires went to hospital because he was feeling so bad. I'm going to visit him now, if he's still there, he was feeling really bad."
Mourinho's opposite number, Alan Pardew, was also full of praise for the manner in which Chelsea won the match – and the title.
"They're a team that can function in any scenario," said the Palace boss. "They kept the ball and frustrated us. That's what champions do. They don't let you back into the game when they take the lead. They've only lost two games all season."
Mourinho's father underwent an operation earlier in the week and he provided an update on his health. "He's strong and is getting better and better so I'm much more relaxed."