1, 200 Repatriated Borno Indigenes Arrive Maiduguri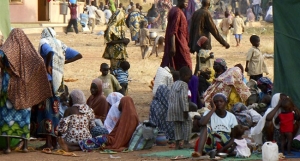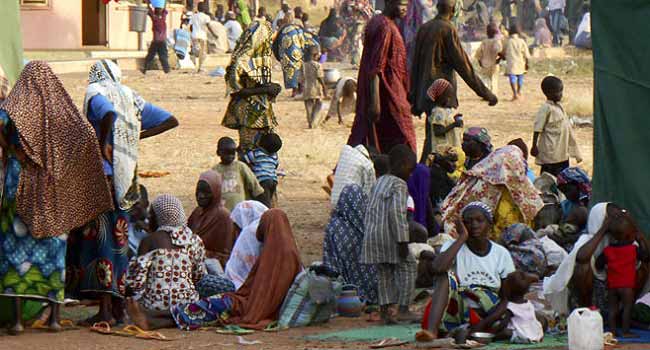 At least 1,200 indigenes of Borno repatriated from Niger Republic arrived the state on Tuesday and were received by the Borno State Emergency Management Agency.
The deportees are among the over 6,000 sent parking from Niger after the attack of two of the country's island by Boko Haram, as a fallout of ongoing military operations in Sambisa Forest, dislodging the bandits from their enclave.
They have found temporary shelter in a new camp established by the state government bringing the number of camps established for Internally Displaced Persons to 21.
Most of the deportees had abandoned their hometowns and migrated to neighbouring Niger Republic following attacks by the Boko Haram group.
20 local governments in the state were sacked by the insurgents and the inhabitants now live in makeshift camps in the capital city.
Speaking to Channels Television, heavily pregnant 15 year-old Aisha Abubakar, went into forced labour after many hours of trekking.
"Karanga town was attacked, and we are neighbours and probably their next target. Even the soldiers deployed to our area withdrew so we had to escape. We travelled on foot for two days", she said.
Recounting his ordeal, Njidda Aminu said "they (Boko Haram) burnt our houses in Baga and sacked everyone so we escaped to Niger. We started farming to support our families until recently when the Nigerien government asked us to leave."
Hauwa Garba, however, claimed to be in contact with her relatives living in Internally Displaced Persons' camps spread across the capital city and remains hopeful of a re-union.
"We were terrified when we heard about boko haram attacks around us so we trekked for days until we got to Gaidam in Yobe State, a lot of people died on the way as we came out due to hunger and thirst. Some of my family members who escaped from Baga are in Maiduguri but I am yet to meet them", she said
The Chairman of Borno State Emergency Management Agency, Grema Terab, said the state government is not ruling out the possibility of collapsing the new camp into the 20 already in existence when verification exercises are concluded.
Mr Grema, adds that more people are still expected as the Nigerien government continues to repatriate more people.
"The 2,400 are not the only people we are expecting back in Borno from Niger and provisions have been made to get them housed in one of the 400 Housing Estate along Gubio Road.
"Some of them, though Nigerians, were born in Niger and have never been to Nigeria. We have to keep them in a camp for now, console them and treat those that are traumatised with the intention of allowing them to mix with other Nigerians in not too distant a time.
"We are equally looking at the possibility of assisting them to start a new life in the country by given them economic assistance", he said.
Mr Terab also called for assistance from the National Emergency Management Agency (NEMA) and the Federal Government.