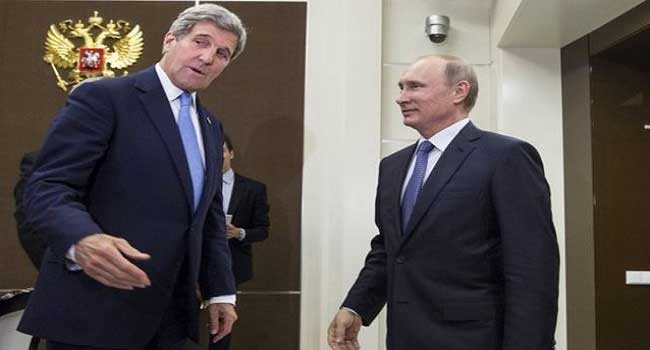 U.S. Secretary of State, John Kerry, met Russian President, Vladimir Putin, on Tuesday, to probe Russia's willingness to curb its involvement in Ukraine crisis and its backing of Syria's President.
This was the highest-level U.S. visit to Russia since the Ukraine crisis began in the autumn of 2013.
The west accused Russia of arming rebels in eastern Ukraine and sending its troops there, a claim Moscow denied.
Kerry also met Russian counterpart, Sergei Lavrov, for over four hours before he sat with President Putin in the Black Sea resort of Sochi.
While they were expected to discuss issues including the Iran nuclear talks, Yemen and Libya, the tour seemed planned to maintain contact, given that U.S.-Russian relations are at their lowest ebb since the Cold War.
"It's important for us to keep these lines of communication open. It's important to try to talk to the senior decision maker.
"We have a lot of business that we could do together if there is interest," said a senior U.S. State Department official.
President Putin's spokesman, Dmitry Peskov, called the visit a "positive step", noting that the Russian President was prepared for "extensive" discussions at the meeting.
"Through dialogue, it is possible to find ways for a normalisation, closer coordination in dealing with international problems," Peskov told reporters before the talks began. "Russia was never the initiator of this cooling of relations," he added.
More than 6,000 people have been killed since fighting began in April 2014 between Ukrainian government forces and Russian-backed rebels in the eastern Donetsk and Luhansk regions.
The conflict was subsequent to Russia's takeover of the Crimean Peninsula in Southern Ukraine.