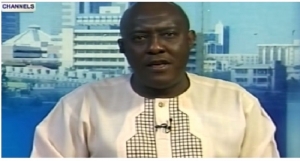 The National Publicity Secretary of the Peoples Democratic Party (PDP), Mr Olisa Metuh on Tuesday accused the All Progressives Congress (APC) of trying to manipulate tribunal processes in Rivers, Delta and Akwa Ibom states.
Addressing a news conference in Abuja, Mr Metuh also said members of the party are trying to keep terms with their first defeat after 16 years in power.
According to him, while the APC may not be held responsible for the crisis in the PDP, including the recent crisis in Lagos State, he alleged that the APC is adopting strategies to destabilize the PDP and introduce a one party system in the country.
It will be recalled that the Executive Committee of the PDP in Lagos State, on Monday removed the party's chairman, Mr Tunji Shelle.
The EXCO reached its decision after a disciplinary committee was set up to investigate some allegations levelled against Mr Shelle.
Subsequently, the EXCO appointed Mr Owolabi Olorunoje to hold the office in acting capacity.
The PDP lost the presidential elections for the first time in 16 years. The party also lost the majority in the red and green chambers of the National Assembly.